FOOD SAFETY IN LONG TERM CARE FACILITIES: PROTECTING RESIDENTS FROM FOODBORNE ILLNESSES
Approximately 9 million people live in long term care facilities across the U.S. today. The majority are adults age 65 and older.1
LTC facilities, which include nursing homes, assisted living facilities, hospices, and adult day service centers, provide critical nursing care and assistance with daily activities. They also serve millions of meals every single day.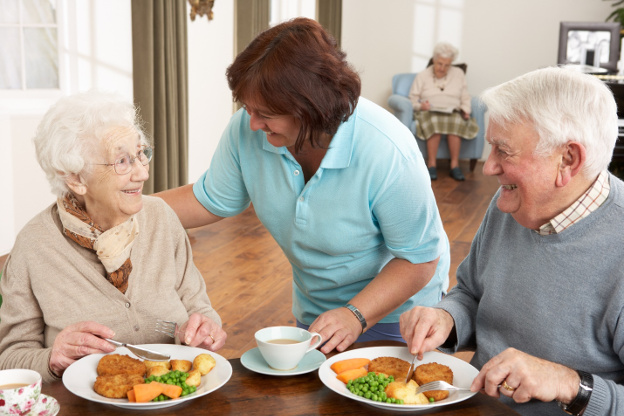 Good food safety practices are vital in long term care facilities, as seniors are at an increased risk for hospitalization and death from foodborne illnesses. In fact, seniors living in nursing homes face 10 times the risk of dying from bacterial gastroenteritis than people in the community.2
Ahead, we'll explore why seniors are at increased risk of harm from food-borne illnesses and look at ways long term care facilities can protect residents.
HOW AGE INFLUENCES THE RISK OF FOODBORNE ILLNESS
Seniors age 65 and older face greater health impacts from foodborne illness because of changes with their organs and body systems.
As a person ages, food moves more slowly through the gastrointestinal tract, which allows more bacteria to grow.
The immune response slows, reducing a person's ability to fight off pathogens.
The liver and kidneys often function less effectively to rid the body of bacteria and toxins.
Low stomach acid production-common in seniors-allows more bacteria to grow in the gastrointestinal tract.
Seniors also have a higher incidence of chronic conditions like diabetes and cancer, increasing their risk of contracting foodborne illnesses. Also, many seniors are on broad-spectrum antibiotics, which kill beneficial bacteria and enable harmful ones to proliferate.
CONDITIONS IN LTC FACILITIES ALSO INCREASE RISK OF FOODBORNE ILLNESS
Residents of LTC facilities tend to spend much of their time in confined spaces, with visitors and staff coming and going. These conditions allow for the easy transmission of pathogens.
Studies show that kitchens in nursing homes and other long term care facilities are infrequently inspected-on average only about once a year. 3
The Centers for Medicaid and Medicare (CMS) contracts with each state to conduct onsite food storage and preparation inspections at LTC facilities, yet some states don't have food-service inspectors who are trained on institutional (versus restaurant) food safety standards specified by the FDA.3 This matters because institutional inspections are broader and more comprehensive, accounting for issues surrounding resident care beyond food safety and sanitation alone.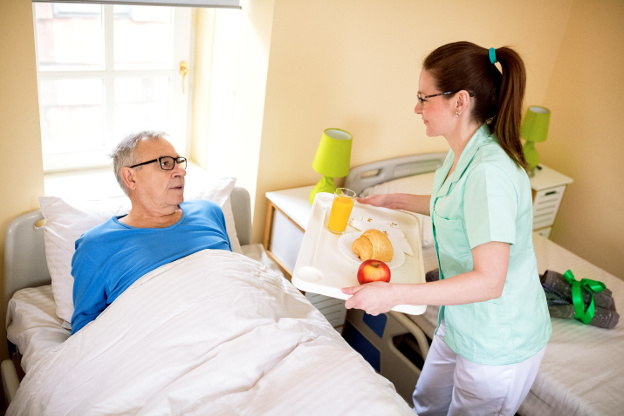 STATISTICS ON FOODBORNE ILLNESSES IN LTC FACILITIES
Data on foodborne illness outbreaks in long term care facilities in the U.S. are somewhat scarce. Existing data does not suggest that rates of foodborne illness are necessarily higher in LTC facilities than in the general community. Yet, when these illnesses strike, they can impact seniors much more severely.
Norovirus provides a good example. A highly contagious pathogen easily transmitted through food and water, norovirus is a common cause of gastroenteritis in the U.S., with an estimated 19 to 21 million cases each year.4
Older adults-both in the community and in long term care environments-are especially vulnerable to infection with norovirus and other pathogens because of reduced immunity and other age-related physiological changes. Of the 570 to 800 norovirus-related deaths each year in the U.S., most occur among young children and the elderly.4 These numbers may even be higher since many cases go unreported.
Other common pathogens affecting residents in long term care settings include campylobacter and salmonella.
Of 964 adults age 65 and older who contracted campylobacter in 2013, 31% were hospitalized for the condition.2
Of 947 adults in the same age group who contracted salmonella that year, nearly half (48%) were hospitalized.2
Given the serious consequences for seniors of acquiring a foodborne illness, it's critical that long term care facilities follow good food safety practices. Let's look at what LTC facilities can do to ensure resident safety.
FOOD SAFETY IN LONG TERM CARE FACILITIES
Historically, long term care facilities utilized cafeteria-style (tray line) operations to distribute food, overseen by a kitchen supervisor. With the transition to homelike environments in nursing homes and other LTC facilities, more staff members are involved in meal preparation and distribution today-and that means more opportunities for food mishandling and cross contamination.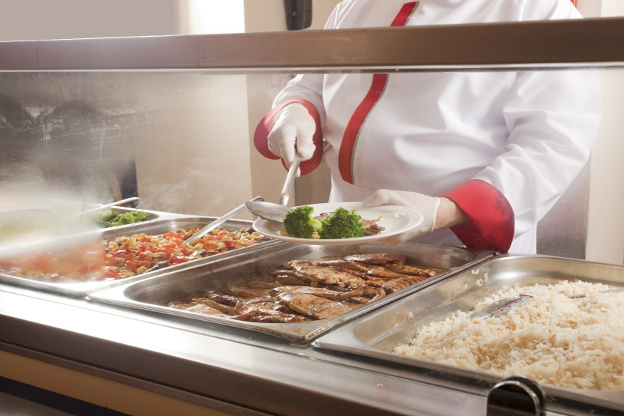 Good food safety is not limited to proper handwashing and food preparation techniques-it begins before food supplies even arrive at the premises.
Below, we provide a general overview of food safety practices LTC facilities should follow to ensure resident safety.
Purchase food from approved vendors that follow HACCP procedures, as outlined by the FDA.
Inspect all products on delivery.
Check food temperatures for perishable items on delivery.
Cover, label, and date refrigerated items; indicate an expiration date for all items.
Keep refrigerated items at 40 degrees Fahrenheit or below; cover all foods, and store meats on the bottom shelf.
Employ safe food handling and infection control practices at all times to avoid cross-contamination.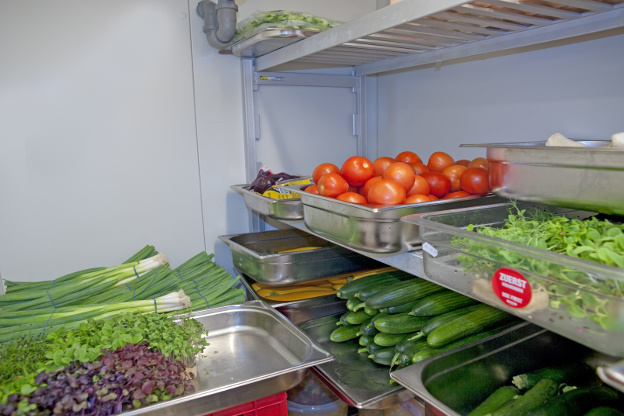 Don't smoke, chew gum, eat, or drink in the kitchen; employees should never come to work while sick; employees should be trained on the employee food health policy and supplied with uniforms and hair coverings; all employees who handle food must wash their hands using proper handwashing procedures, and they should use alcohol-based hand sanitizers frequently.
Foods should be thawed in the refrigerator or in the microwave and cooked immediately.
Food should never be left out at room temperature for extended periods; staff must be aware of the "danger zone" period.
Cook foods at the appropriate temperature to kill microorganisms.
Keep hot foods at 135 degrees and cold foods at 41 degrees.
Take food temperatures during and after cooking and keep temperature logs; food safety monitoring software can help ensure compliance.
Follow good serving guidelines, including using spatula and tongs, wearing disposable gloves, never wiping hands on apron or uniform, and always washing hands after handling money.
Cool food quickly to ensure the temperature of hot foods drops to 70 degrees in two hours and then to less than 41 degrees within an additional four hours.
Wash hands thoroughly before beginning food service and after clearing soiled dishes.
Clean and sanitize dishes using the proper water temperature and with the appropriate concentration of sanitizer solution; dishes must be held in sanitizing solution for the proper amount of time; all dishes should be air dried.
Employees who prepare and distribute food should be aware of common food allergies (e.g., soy, peanuts, shellfish, tree nuts, milk, eggs, wheat) and know which foods contain potential allergens-that means knowing how to read food labels for "hidden" ingredients.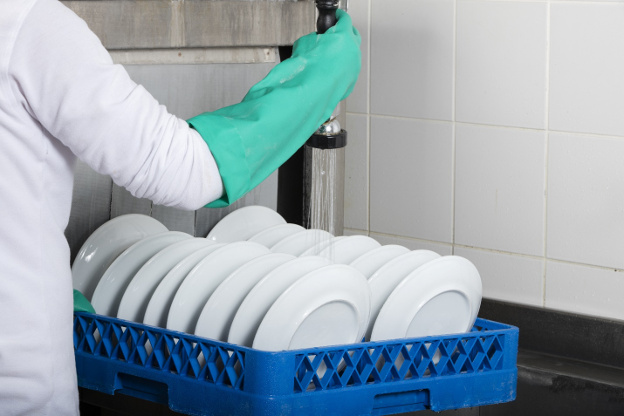 These steps can greatly reduce the incidence of foodborne illness.
THE ENORMOUS COST OF FOODBORNE ILLNESS
The impact of foodborne illness on individuals, families, businesses, and society at large is enormous. A study in the Journal for Food Protection estimates the annual cost at $77.7 billion.3 This includes:
Medical expenses
Productivity losses
Illness-related death
Pain, suffering, and functional disability
This estimate doesn't include costs to the food industry from food recall losses and litigations, nor does it take factor in the impacts of reduced consumer confidence.
Of course, there is no way to measure or quantify the negative impact on quality of life of those affected, including those in long term care facilities.
FOOD SAFETY AND OUR AGING POPULATION
The American population is aging. The number of Americans over age 65 is projected to grow from around 40 million people in 2010 to 88.5 million in 2050.5 The number of people age 85 and over will almost triple in the coming decades, from 6.3 million in 2015 to 17.9 million in 2050. 5
Given our aging population, it's not surprising that the number of people using long term care facilities or home care services is projected to increase from 15 million in 2000 to 27 million in 2050.5 This means food safety in LTC facilities will be more important than ever, especially given what we know about the risks the elderly face from foodborne illnesses.
Those who manage food service within long term care facilities-often certified dietary managers (CDM)-play a critical role in protecting residents from foodborne illness.
Nurses, certified nursing assistants, and other staff members who handle and distribute food to residents must also receive training on good food safety practices. Medcom's educational programs can help.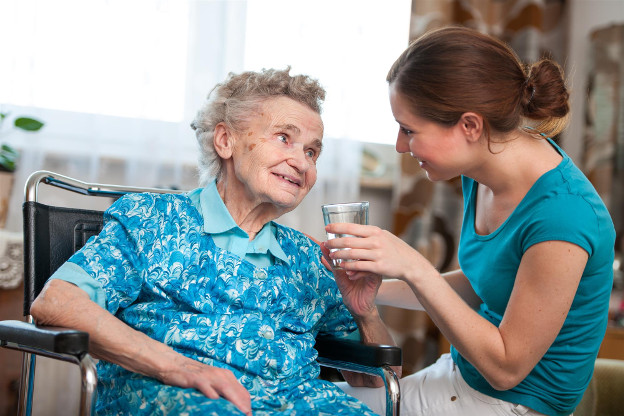 MEDCOM FEATURED COURSE: KITCHEN SAFETY IN LONG TERM CARE FACILITIES
Learning about and practicing kitchen safety is essential not only to protect dietary services staff members at long term care facilities from injury and illness but to also protect the health of the residents they serve.
Medcom's course Kitchen Safety in Long Term Care Facilities describes common safety hazards, injuries, and illnesses and offers tips on kitchen safety and cleanliness and safe food handling.
After completing Medcom's course, learners should be able to:
Identify basic principles and practices of kitchen safety in the long term care environment.
Apply strategies to prevent kitchen-related injuries and foodborne illnesses in long term care facilities.
The goal of this program is to educate dietary services staff working in long term care facilities with kitchen safety principles and practices. The material is organized around the following categories:
Common Kitchen-Related Injuries
Safety Hazards and Preventing Injuries
Keeping the Kitchen Clean
Safe Food Preparation and Handling
Worker Illnesses
ADDITIONAL LONG TERM CARE DIETARY/NUTRITION COURSES
Medcom offers a full suite of courses designed for nurses and other healthcare workers in long term care facilities, including:
Critical Control: Nutrition and Care for Renal Failure Patients
Kitchen Safety in Long Term Care Facilities (Featured Course)
Nutrition and Pulmonary Therapy
Nutrition Intervention Strategies for Alzheimer's Disease
Nutrition Intervention Strategies for Pressure Injuries (1 hour CE)
Nutrition Screening: Identifying the Hidden Signs of Nutritional Risk (1 hour CE)
Strategies for Improving Nutrition and Hydration in Elderly Patients in Long Term Care Facilities
The Dining Room: An Environment of Care
To view or purchase these courses, visit http://www.medcomrn.com/index.php/ltc/ and select "Dietary/Nutrition" from the course catalog menu near the bottom of the page. For more information about these courses or to set up a free preview, please contact Medcom at 800-541-0253, or email customerservice@medcominc.com.
ABOUT MEDCOM
For more than 50 years, Medcom has been a trusted education provider among healthcare professionals, students, patients, and their loved ones. Our vast library of products is used nationwide by universities, hospitals, long term care facilities, and mental/behavior health areas.
Medcom offers a complete suite of online education, including nursing CE programs, to help ensure quality care. Our award-winning products not only meet regulatory compliance, but the Medcom solution is cost-effective, meets in-service and continuing education needs, and boosts employee retention. To ensure the highest level of quality, we have worked with leading healthcare and professional organizations, such as the American Lung Association, John Hopkins Hospital, and Mayo Clinic. To learn more, visit www.medcomrn.com.
SOURCES: