PREVENTING FALLS IN LONG-TERM CARE: A COMPREHENSIVE APPROACH
Each year, millions of older people in the U.S. will fall—at home, in a public setting, or in a long-term care facility. Falls are the leading cause of both fatal and non-fatal injuries for older Americans. This speaks to the critical importance of fall reduction programs in healthcare and long-term care facilities.
The consequences of falling can range from minor bumps and bruises to major trauma, including internal bleeding, fractures (especially of the hip), and brain injuries. Severe injuries from a fall can be life-threatening; in fact, an estimated 23,000 older individuals die every year as a direct consequence of or from complications after a fall.1
MORE THAN JUST PHYSICAL INJURIES
The repercussions of a fall are much greater than physical injuries alone. Falling can result in a functional decline, reduced quality of life, and fear of falling again, which can lead to feelings of depression, helplessness, low self-esteem, and social isolation.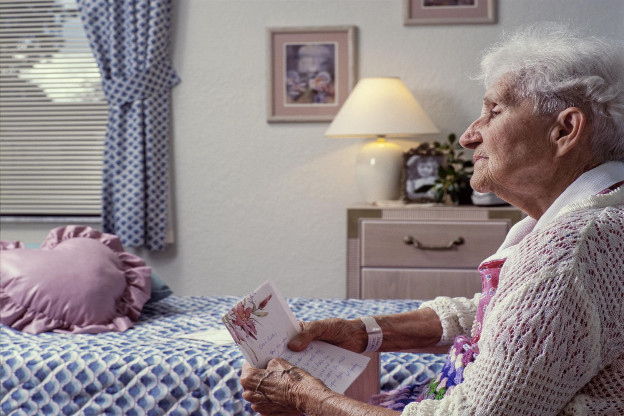 Ahead, we'll explore how long-term care facilities, such as nursing homes and assisted living facilities, can develop fall reduction strategies to help reduce the risk of patient falls. This includes assessing patient risk, utilizing fall-prevention products, assembling a fall reduction committee, performing periodic assessments, and providing staff with continuing education on fall prevention using live lectures, online courses, and other tools.
STATISTICS ON FALLS IN THE U.S.
Given the possibility of ongoing complications and reduced quality of life after a fall, prevention is key. The statistics on falls are sobering—consider the following:
Every year 1 in 4 people age 65 or older will fall in the U.S.1
People age 75 and older are 4 to 5 times more likely to fall than those in their 60s and early 70s; those who live in long-term care facilities have a higher risk of falling than those who live in the community.1
In acute care facilities, 3 to 30% of inpatients will fall, according to the Centers for Disease Control.1
50-75% of elders in residential care will suffer at least one or more falls, according to the CDC.1
20-30% of those who fall suffer moderate/severe injuries, such as head trauma, lacerations, and hip fractures.1
2.8 million non-fatal falls are treated in the emergency room, with almost 800,000 hospitalized, according to the CDC.2
TREATING FALL INJURIES IS VERY COSTLY
In 2015, Medicare costs for injuries related to falls totaled over $31 billion.3 The average hospital cost for a fall injury is $30,000.3 Because the U.S. population is aging, both the number of falls and the costs to treat fall injuries are likely to rise, according to the CDC.
The direct costs of treating fall injuries include things like hospital and nursing home care, doctor and physical therapist visits, prescription drugs, and medical equipment.
The indirect costs, such as loss of independence, lost time from work or household duties, and reduced quality of life, can be much greater yet.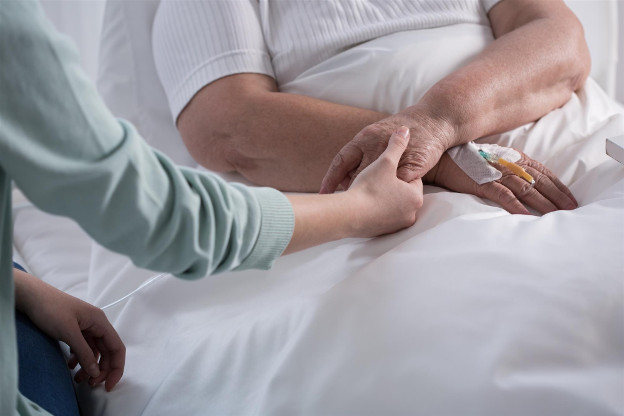 PREVENTING FALLS IN LONG TERM CARE FACILITIES
Falls in long-term care facilities are common. In a typical year, 50-75% of all residents will fall, yet many of these incidents go unreported, so the percentage is likely even higher.1
A single resident will fall more than once, on average, and the fall rate in long-term care is twice the rate of seniors in the community.1
10-20% of falls will cause serious injury and about 1,800 elders will die in long-term care as a result of their injuries.1
HIP FRACTURES: A SERIOUS CONSEQUENCE OF FALLING
Hip fractures are so common and potentially serious that they warrant specific attention.
According to the CDC, there were more than 258,000 hospital admissions in 2010 for hip trauma among those age 65 and older; more than 95% were the result of individuals falling sideways onto the hip.4 The number of hip fractures is expected to increase by 12% by 2030.4
Hip protectors (also called hipsters) can help reduce hip injuries from falling by providing extra padding and protection during a fall. These devices can also give residents/patients a better sense of security and protection.
STANDARDS FOR FALL REDUCTION
Because falls in long-term care, home care, and other healthcare facilities are so common, the Joint Commission continues to include standards for fall reduction in their National Patient Safety Goals. These standards include:
Assessing the patient/resident's risk for falls
Providing staff training on fall reduction
Implementing interventions to reduce falls based on the patient's or resident's assessed risk
Educating the patient/resident and their family members on fall reduction strategies
Periodically evaluating the effectiveness of all fall-reduction activities, including assessment, interventions, and education
ASSESSING PATIENT RISK: 7 SCREENING FACTORS
There are seven crucial screening factors to assess a resident's risk of falling. They include:
Age: Those over age 75 have the highest rate of falls in the U.S.; they are 4 to 5 times more likely to be admitted to a long-term care facility, such as a nursing home, after a fall.1
History of recent falls: This is a strong predictor of future falls.
Elimination practices: Frequent trips to the bathroom, particularly at night, can increase the risk of falling, as can urgency and the use of ostomies (e.g., colostomy bag) and urinary catheters.
Medications: Certain medications, including sedatives, antihistamines, antidepressants, psychotropics, herbal medications, and others, can cause dizziness, drowsiness, and other symptoms, which can increase the risk of falls.
Needed medical equipment: IVs, poles, ventilation equipment, non-portable ostomy equipment, chest tubes, and other equipment can trip patients, leading to a fall.
Mobility factors: Residents who need help getting around, who have sight impairments, who use assistive devices, or who have an unstable/unsteady gait are at greater risk of falling.
Psychological state and cognitive status: Residents who are agitated, depressed, or emotionally impulsive, or who have conditions like dementia are at increased risk of falling.
As part of their fall reduction program, long-term care facilities should do the following:
Assign numeric values for each category listed above.
Perform an assessment for each resident.
Tally the points (for each resident) to determine a final score that assesses the person's overall risk of falling.
IMPLEMENTING INTERVENTIONS
Facilities should develop a care plan for each resident, and staff should follow established fall reduction plans, which can include:
Identification: Posting signs (e.g., "fall risk") just above the person's bed, using color-coded armbands or blankets, and having residents wear slippers/no-skid socks can help prevent falls; these items help visually alert staff members of the person's risk wherever they are, whether in their bedroom or in common areas, such as the dining hall. Staff, visitors, and volunteers should be familiar with any color-coding designation system.
Disease Management: If a person's health condition puts them at an increased risk of falling, staff members should evaluate how to manage the condition to reduce the person's risk. This could involve changing the type or dosage of a medication that causes dizziness or drowsiness, for example.
Exercise: Facilities should have a comprehensive exercise program (with or without physical therapy) in place to help residents enhance/restore muscle strength, balance, and endurance.
Anticipatory nursing: Strategies like scheduling bathroom trips and removing environmental hazards should be implemented for patients who have incontinence issues, such as urgency or frequency, or who use ostomies or catheters.
Mobility assistance: Patients/residents who have mobility issues should have the equipment (e.g., walkers, wheelchairs) they need, as well as assistance from staff.
Frequent checks by staff: Staff members should frequently check on patients who have cognitive impairments or wandering tendencies. Patients with these issues should be placed close to nursing stations, and bed and personal alarms can be used for patient-tracking purposes.
Environmental hazards: All staff members should be on the alert for environmental hazards, like spills and trip hazards, and clean them up promptly.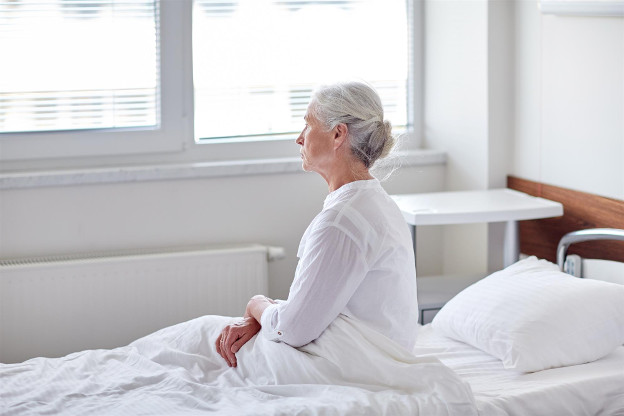 Certain tools and equipment can help reduce the risk of falling. These include:
Low-profile beds
Monitors and alarms (e.g., bed alarms, personal alarms)
Voice-model alarms that play a soothing voice from a loved one (these are particularly useful for dementia patients)
Mobility aids, such as gait belts, walkers, canes, and wheelchairs
Elimination aids, such as bedside commodes, urinals, and adult diapers
Nightlights and grab bars
Floor cushions to absorb fall-related trauma
Bathroom products, including non-slip mats, elevated toilet seats, and grab rails
EDUCATING STAFF
Staff should learn and follow the facility care plan. Facility administrators should use color-coded patient armbands and signs posted above beds or on doors to convey patients'/residents' risk of falling to staff members.
EDUCATING RESIDENTS
Staff should explain the risks of falling to residents and empower residents with the information and tools they need to help reduce their risk of falling. This includes explaining the side effects of medications, advising residents to call for help when they need to get out of bed to use the restroom, etc.
Staff should advise residents to wear rubber-soled shoes or slippers and to sit upright for at least 10 seconds at the edge of their bed before attempting to get up. Staff members should also ensure that residents are aware of side rails on the bed and any other protective equipment or devices.
Finally, staff should discuss the plan of care with the resident's family members and make clear the risks of falling. Getting family members involved can help reduce the likelihood of a fall.
ASSESSING FACILITY ENVIRONMENT
Facilities should establish a committee on fall reduction. Checklists and environmental risk assessment tools can help the committee make an accurate evaluation. These tools should address the facility's flooring, lighting, furniture (for safety and functionality), bathroom accommodations (non-slip floors, grab bars, etc.), elevators, and other facility features. In short, every aspect of the facility should be evaluated for patient safety.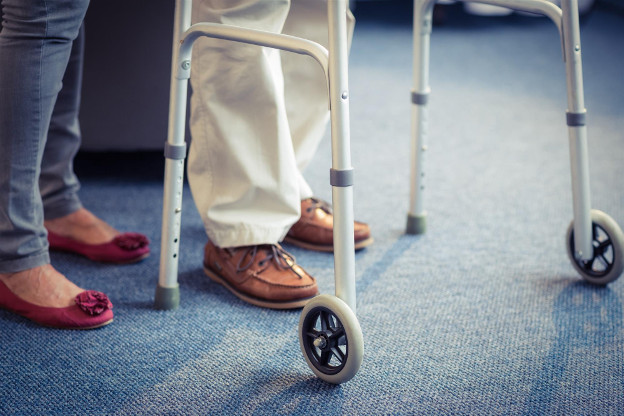 DEVELOPING A COMPREHENSIVE FALL-REDUCTION PROGRAM
In 2000, The Joint Commission, a nonprofit organization that accredits and certifies healthcare organizations and programs in the U.S., issued a sentinel alert evaluating the prevalence of fatal falls and their root causes.
This alert identified the following5 as causes of patient falls:
Malfunction of equipment (such as bed alarms)
Incomplete orientation of new staff
Inadequate supervision of care providers in training
Insufficient education of staff, patients, residents, and families
Delayed or unavailable medical care as causes of patient falls.
At the time, the Commission recommended better education of staff members and developing fall reduction strategies and protocols, including (but not limited to) using bed alarms and low beds; keeping windows closed; and ensuring patients, residents, and families receive fall reduction education.
The Commission has published fall-reduction standards annually since its Sentinel Alert in 2000. The latest standards include those mentioned earlier (see "Standards for Fall Reduction" above).
FORMING A FALL-REDUCTION COMMITTEE
An effective fall-reduction committee should include several staff members from different disciplines.
In smaller facilities, a committee may only include an administrator, nurse, risk manager, therapist, and physician. Larger facilities may include delegates from nursing, medicine, administration, therapy, risk management, environmental services, and other departments.
Including individuals from different areas of the facility in the committee provides a more multi-disciplinary approach.
The committee should do the following:
Gather data concerning the incidence of falls and related injuries at the facility.
Create protocols, policies, and procedures that assess the fall risk of each resident upon their admission and at set intervals.
Evaluate existing fall-assessment tools to determine if one is appropriate for the facility; if not, a custom plan should be developed.
Create a schedule for a reassessment of residents at regular intervals (such as every 4-6 months, or whenever a resident's medication changes).
Develop methods for staff, volunteers, and visitors to easily identify residents at risk for falling (e.g., with signage, color-coded wristbands, etc.).
Develop protocols, policies, and procedures for identifying environmental hazards.
Develop a care plan for each individual resident based on his/her particular risk factors and needs.
Create and implement an education plan for staff members
Establish post-fall assessment procedures (including delivering appropriate medical care and, when appropriate, asking the resident about their fall; the acronym S-P-L-A-T-T (Symptoms, Previous falls, Location, Activity, Time, and Trauma) is a helpful post-fall assessment tool.
Monitor progress by studying post-fall reports and medical charts of those at fall risk; this can help committee members identify deficiencies and trends.
Every long-term care and healthcare facility should have a fall-reduction committee in place made up of members from different disciplines within the facility. Protocols, policies, and procedures should be reviewed and revised every 2-3 years, as needed.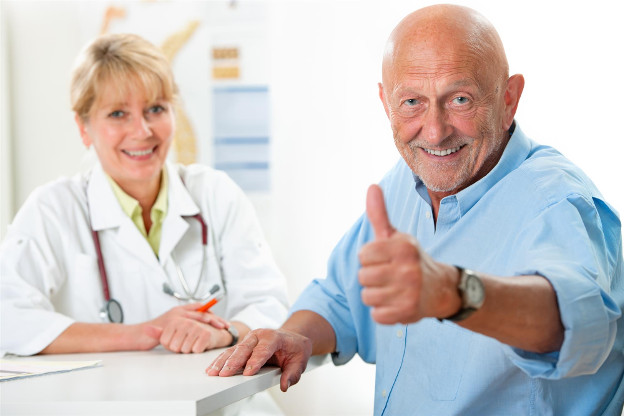 BETTER PATIENT OUTCOMES, REDUCED COSTS
By implementing a comprehensive fall-reduction program and educating staff using healthcare education videos, online courses, and nurse CE (continuing education) programs specifically designed for long-term care providers, facilities can help reduce the incidence of patient falls.
This, in turn, can improve resident/patient outcomes and reduce the high cost of falls to individuals, their families, and society.
ABOUT MEDCOM
Medcom is a leading provider of online education for healthcare facilities. We offer a full suite of online courses to help ensure quality resident care, from complete healthcare education courses to mandatory employee updates, to CE courses for nurses and allied health professionals.
Medcom's affordable online training is the ideal solution to help long-term care facilities of every scope and size deliver comprehensive training that LTC staff need to work effectively in the field. Please contact Medcom at 800-541-0253, or customerservice@medcominc.com for more information and a free preview.
SOURCES
OUTSIDE LINK
1. https://www.jointcommission.org/assets/1/6/NPSG_Chapter_NCC_Jan2017.pdf