HOW HEALTHCARE WORKERS CAN STAY WELL DURING FLU SEASON
Cold and flu season is in full swing, which makes it an especially critical time for healthcare workers to be diligent about good infection control practices. Nurses, doctors, CNAs, and other healthcare staff are in constant contact with patients, including vulnerable populations-the very young, the elderly, pregnant and nursing women, and those with weakened immune systems. The flu can quickly develop into a serious or life-threatening situation for these individuals.
Flu viruses typically incubate for 1-4 days, with an average incubation period of 2 days, but the viruses are sneaky-adults can be infectious for up to a day before they start to show symptoms, and they can remain infectious for 5-7 days after the onset of the illness; it's important for healthcare workers to remember they can still be infectious even though they're feeling better-going back to work too soon can put patients at risk.
STAYING UP-TO-DATE ON THE LATEST INFECTION CONTROL METHODS
Healthcare facilities should make all the necessary tools available to help prevent the spread of the flu and other pathogens, but staff members also have a responsibility to stay on top of the latest policies and procedures regarding infection control and report problems (such as shortages of hand sanitizer supplies) as they arise.
Hospitals, clinics, outpatient facilities, nursing homes, and hospices should hold regular meetings and training sessions to bring healthcare staff up-to-date on the latest information about the flu, including outbreaks and pandemics. Training can include live lectures, discussions, and nurse education videos that cover a range of topics surrounding infection control.
WHY FLU AND COLD VIRUSES ARE SO COMMON IN WINTER
Viruses are more common in the colder months (hence the name "cold") because they flourish in colder, drier weather. Low humidity dries out the nasal passages, which makes it harder for your body to trap and eliminate bugs before they enter your body-this is why higher humidity levels are important not only in healthcare settings but also at home. A good humidifier or vaporizer can help healthcare workers keep their nasal passages in good shape at home.
FLU: A MAJOR PUBLIC HEALTH ISSUE
On average, 5 to 20% of the U.S. population-16 to 65 million people-will get the flu each year.1 An average of 200,000 people will be hospitalized for flu-related problems, and, sadly, 3,000 to 49,000 people will die each year of flu-related causes.2
These certainly aren't numbers to scoff at, nor are the healthcare costs of flu, which average more than $10 billion in the U.S. for hospitalizations and doctor visits. This does not include costs associated with lost productivity at work and lost income.
COLD OR FLU: KNOWING THE DIFFERENCE
It's easy to mistake the flu for a cold since both may have some overlapping symptoms. Let's quickly review the symptoms of each:
| | | |
| --- | --- | --- |
| Symptoms | Flu | Cold |
| Fever | Usually (100-102 deg. F) | Sometimes |
| Body aches | Usually, often severe | Occasionally, usually mild |
| Headache | Common | Sometimes |
| Extreme exhaustion | Never | Common, usually early on |
| Stuffy nose | Sometimes | Common, often severe |
| Sore throat | Sometimes | Common |
| Cough | Common, often dry hacking | Common |
| Sneezing | Sometimes | Common |
COMPLICATIONS OF THE FLU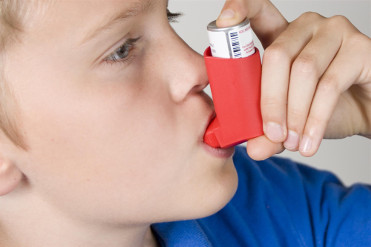 For most people, the flu is a relatively short-lived illness that has no long-term impacts. For others, complications can arise. Flu viruses can make people more susceptible to viral or bacterial pneumonia, ear and sinus infections, dehydration (from vomiting and perspiring), and it can worsen chronic medical conditions like asthma, diabetes, and congestive heart failure.
Flu can also lead to muscle inflammation, and it can trigger heart problems like heart attacks, so it's important for people with chronic conditions to see their doctor and be closely monitored. Adults over age 65, children under age 4, adults with heart and lung disease, pregnant women, and nursing home residents are most likely to have flu complications.
PNEUMONIA: A POTENTIALLY-SERIOUS FLU COMPLICATION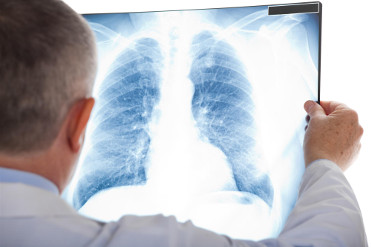 Pneumonia is a common complication of the flu, so it warrants specific attention. Pneumonia can be caused by either a virus or a bacteria and causes inflammation of the air sacs of the lungs, which may fill with fluid.
Symptoms can include chills, fever, chest pains, sweating, cough, and bloody mucus. It can also cause increased pulse rate, shortness of breath, and sharp pains in the chest on inhalation. Pneumonia can last for two weeks or longer and can lead to hospitalization, especially in vulnerable populations.
Now, let's look at steps healthcare workers can take to prevent the spread of the flu on the job.
FLU PREVENTION STRATEGIES
The Centers for Disease Control and Prevention (CDC) has devised a set of recommendations for preventing flu in healthcare settings. They include (but are not limited to) all of the following:
Promoting and administering the seasonal flu vaccine . The CDC recommends that healthcare personnel and patients (6 months of age and older) be vaccinated, including patients in long-term care. Some healthcare facilities offer no-charge vaccinations or other incentives to improve vaccination rates among healthcare personnel. Others require personnel to sign a declination form acknowledging that they have been informed about the benefits and risks of vaccination.
Taking steps to minimize potential exposures. Healthcare personnel should screen, triage, and educate patients exhibiting flu symptoms about appropriate respiratory hygiene and cough etiquette. Appointment schedulers should instruct patients and those who accompany them to let healthcare workers know they are sick upon arrival.
During flu seasons, healthcare facilities should attempt to minimize visits by patients with flu whenever possible, by providing phone consultations, for example. If the patient must visit the facility, staff should ensure that patients and visitors who are showing symptoms use proper cough etiquette and practice good hand hygiene while at the facility.
Facilities should post signage to provide both patients and healthcare personnel with instructions about respiratory hygiene and cough etiquette and provide supplies (face masks, tissues, hand sanitizer, etc.) in easily-accessible areas.
Monitoring and managing sick healthcare personnel. Healthcare workers who develop fever and respiratory symptoms should not report to work. If they're at work when they first notice symptoms, they should immediately stop patient-care activities, put on a facemask, notify their manager as well as on-site infection control personnel, and promptly leave work.
They should also be mindful of proper cough etiquette and respiratory hygiene in the interim. Sick healthcare workers should be excluded from work for a minimum of 24 hours after they no longer have a fever (without the aid of fever-reducing drugs).
ADHERING TO STANDARD PRECAUTIONS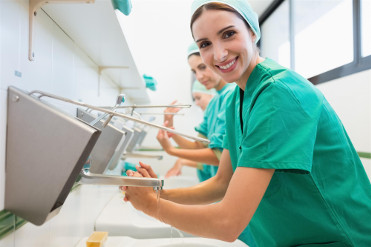 The CDC has developed Standard Precautions for healthcare personnel in order to prevent the spread of infections. Standard Precautions include proper hand hygiene and using personal protective equipment (PPE) such as gloves, face masks, and gowns.
Healthcare staff should perform hand hygiene (washing with soap and water or using an alcohol-based hand rub) before and after all patient contact, after coming into contact with potentially infectious material and before putting on and after removing PPE. Staff should wear gloves anytime they could come into contact with potentially infectious materials and should never wear the same pair of gloves for more than one patient.
Staff should wear gowns when they expect to come into contact with blood, bodily fluids, or respiratory secretions, such as when drawing blood, changing wound dressings, performing oral examinations, etc.
ADHERING TO DROPLET PRECAUTIONS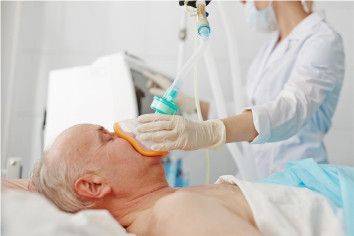 Droplet precautions were established to prevent the spread of germs, including influenza, found in tiny droplets when a person coughs or sneezes. Healthcare personnel should wear face masks to avoid inhaling germs when working with patients or others who are suspected or confirmed to have the flu.
Patients may need to be isolated in a private room with the door closed if they are infectious, especially if they have an excessive cough or are sneezing. If a private room isn't available for a patient that has the flu, healthcare workers should give the patient a facemask to wear. Sick patients should also wear face masks outside the exam room.
Managing visitor access and movement in healthcare facilities. Patients who are in isolation for the flu should only have visitors when necessary for the patient's care and well-being. Visitors who had contact with the patient before and during their hospitalization could potentially be infected with the flu virus and are therefore a risk to others at the hospital.
All visitors should following respiratory hygiene and cough etiquette standards. Staff should also advise visitors to limit their movement within the healthcare facility to avoid possibly infecting others.
Monitoring flu activity. Hospitals, clinics, nursing homes, and other healthcare facilities should establish policies to alert healthcare staff about increased flu activity and outbreaks in the community or within the facility. Specific individuals within the facility should be designated responsible for communicating with public health officials about flu outbreaks and disseminating that information throughout the facility.
These and other measures, including executing proper cleaning and disinfection procedures; educating staff about proper infection control practices through live lectures, meetings, and healthcare videos; making sure appropriate barriers are in place between patients (such as curtains and partitions); and exercising caution when performing aerosol-generating procedures (such as intubation, resuscitation, and bronchoscopy) can all help healthcare workers avoid getting the flu and potentially passing it on to patients, staff members, and others.
SOURCES